Australian iron ore company, Fortescue Metals Group Limited (ASX:FMG) has secured the eighth spot as Australia's highest revenue-generating company in 2021, with AU$29.6 billion in revenue, up 72% in last 12-months. As per media sources, the ASX-listed materials company has jumped from 18th position in 2020 to the eighth position in 2021. An industry research analyst, IBISWorld has shared the list of the top 10 highest revenue Australian companies.
According to media sources, Western Australia's mining dominated the list this time as Rio Tinto Limited (ASX:RIO) and BHP Group Limited (ASX:BHP) are among the top performers. Rio Tinto topped the list with AU$90.2 billion in revenue. BHP took the second spot with AU$82.9 billion in revenue, up by 36.8% within a year.
Worth mentioning here is that as per Australia's top 10 largest industries by revenue, iron ore mining is on seventh spot with AU$128.6 billion in revenue for 2022, IBISWorld reported.
Suggested reading: VTG, FEX & BSE: Three ASX penny stocks paying highest dividend
Fortescue Metals' share price
The share price of Fortescue has been volatile since morning. At 2:06 PM AEST, the stock was trading 0.874% higher at AU$21.920 per share.
This ASX 20 stock has generated a return of over 15% in one month, and in one year, it managed to generate a return of 0.37%. The last six months have been good for the Fortescue shareholders as stock prices surged by around 49%.
Fortescue Metals' dividend
Image source: © Dragon345 | Megapixl.com
Fortescue's dividend policy keeps payout in the range of 50 to 80% of full-year NPAT (net profit after tax). In February, the company announced an interim dividend of AU$0.86 per share, a 70% payout of NPAT, which was distributed in March 2022. In the first half of the year ending 31 December 2021, the company reported an NPAT of US$2.8 billion. As per the ASX-announcement dated 16 February 2022, it is the third highest NPAT in the history of Fortescue.
However, the dividend amount has declined in six months. In September 2021, the company paid a dividend of AU$2.11. In March 2021, a dividend of AU$1.47 was distributed when the NPAT was US$4.1 billion (in one-year, NPAT has declined by 32%).
Competitor of Fortescue, Rio distributed AU$6.628 of dividend in April 2022, and BHP declared a dividend of AU$2.081 in March 2022. Both companies reported a reduction in dividend amount when compared to the last half.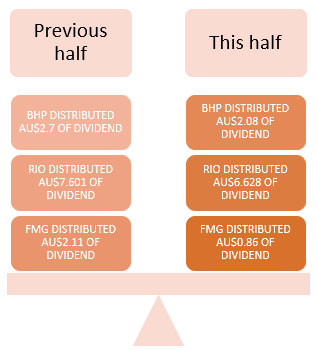 Fortescue has an annual yield of 13.74%, BHP has 9.13%, and Rio has 11.80%. Therefore, Fortescue offers the most value to shareholders from the annual yield perspective.
Must read: DXS, JHX & TPG – Who are the biggest shareholders of these ASX 200 stocks?