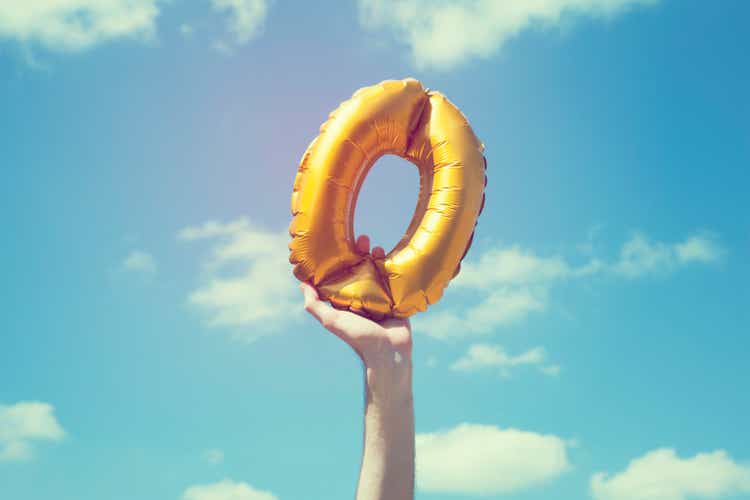 Investment Thesis
The SoFi Select 500 ETF (NYSEARCA:SFY) is a unique, zero-fee product aimed at Index investors who have a slight growth bias, determined by a company's one-year historical and forward-looking revenue and earnings growth rates. I've reviewed SFY before and decided that these short-term growth rates are insufficient since there are no controls for valuation. However, SFY has had a recent pullback relative to the S&P 500, so I am open to the possibility of it representing good value for interested investors.
I have calculated SFY's forward price-earnings ratio to be 30, about three points higher than the S&P 500. For that premium, investors are getting about two percent more earnings growth, specifically through its overweighting of mega-cap stocks like Tesla (TSLA) and Amazon (AMZN). While I'm not convinced that high P/E stocks' growth scenarios will continue as they have in recent years, trying to predict sentiment changes is a difficult task. Therefore, I am upgrading my rating to a "hold" since I don't think there's any substantial risk difference relative to the S&P 500 today, and I look forward to explaining why in this article.
ETF Overview
Strategy & Fund Basics
The selection process begins with 3,000 of the largest U.S. equity securities by market capitalization. A composite score is then calculated for each security based on trailing one-year revenue growth, trailing one-year EPS growth, and forward one-year consensus EPS estimate, and the top 500 are selected. Since market capitalization is the predominant factor in weighting constituents, you will find a lot of similarities with the SPDR S&P 500 Index ETF (SPY). However, there is a growth bias due to the three simple screens. In my view, SFY is a cross between a blended and a growth ETF, which may be attractive depending on relative valuations. Now, before I get to SFY's composition, here are some of the fund's key metrics for quick reference:
Current Price: $16.21
Assets Under Management: $378 million
Expense Ratio: 0.00% (0.19% Without Waivers Until At Least June 2022)
Launch Date: April 10, 2019
Trailing Dividend Yield: 0.97%
One-Year Dividend CAGR: -3.46%
Dividend Frequency: Semi-Annually
Number of Securities: 500
Portfolio Turnover: 26.00%
Assets in Top Ten: 32.97%
30-Day Median Bid-Ask Spread: 0.06%
Tracked Index: Solactive SoFi US 500 Growth Index
Sector Exposures & Top Holdings
As mentioned, SFY looks similar to an S&P 500 ETF but with a tilt toward sectors with several highly-weighted growth stocks like Consumer Discretionary and Technology. Offsets are primarily found in the Financial and Industrial sectors, though the differences are relatively small.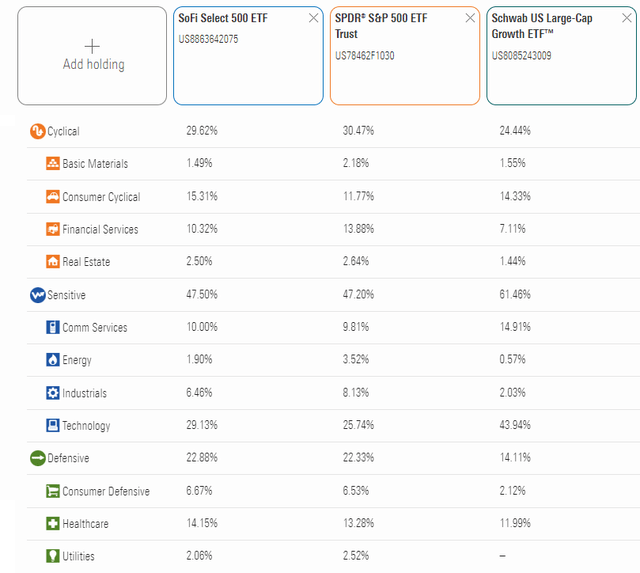 In contrast, SFY is underweight Technology stocks by 15% compared with the Schwab U.S. Large-Cap Growth ETF (SCHG). I chose SCHG since I'm familiar with it and viewed it as incredibly overpriced in December. SCHG is about as high as anyone should pay for a growth ETF today, so I'll be looking for SFY to be trading at a substantial discount.
Another similarity SFY has with the S&P 500 is its concentration in its top ten holdings. Today, they account for 32.97% compared with 30.00% for SPY. Tesla is overweight (4.96% vs. 1.97%), while Berkshire Hathaway (BRK.B) is underweight (0.67% vs. 1.51%). Tesla's outstanding revenue and earnings growth rates are responsible, and I think this is where a screen for valuation may have been beneficial given its forward P/E of 88.62.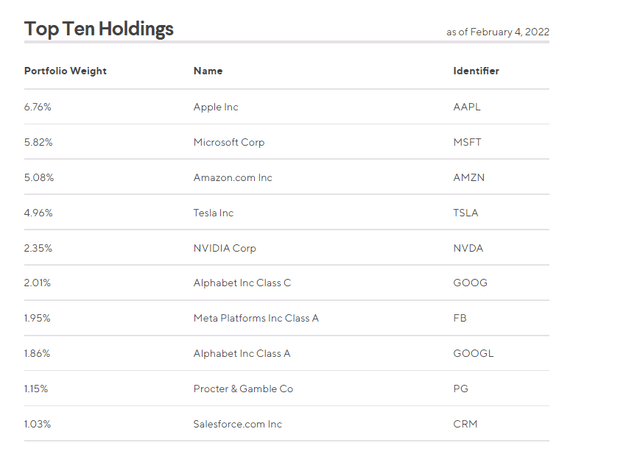 Historical Performance
The graph below compares SFY's performance with SPY and SCHG, and for the most part, the results were good. Its relatively short history may undersell the risk involved, given how it's been through a period where the market favored growth stocks, but investors have gotten a good deal. An 18.89% annualized growth rate and a 1.01 Sharpe Ratio beats SPY's figures of 18.01% and 0.98, respectively.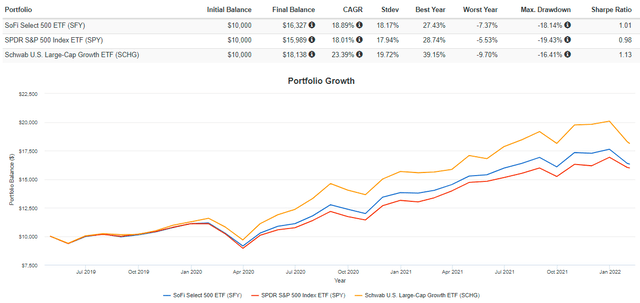 However, returns and risk-adjusted returns were worse when compared with SCHG, supporting the idea that SFY is more of a "growth-lite" ETF, suitable for moderately aggressive investors.
SFY Analysis
The table below highlights the ETF's top 20 industries, accounting for 67.26% of the ETF. I've included some growth metrics in this summary to show investors how different it is versus selecting SPY or SCHG. Have a look, and then I will offer my comments afterward.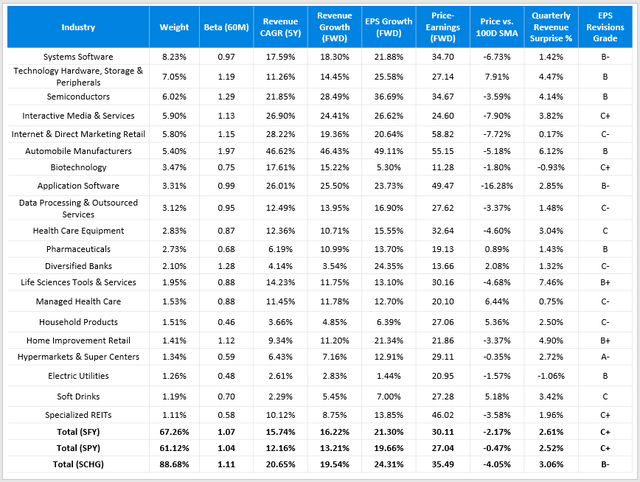 As shown, SFY falls in between SPY and SCHG on nearly every metric presented. Its 1.07 beta is slightly higher than SPY's 1.04 but less than SCHG's 1.11. Revenue growth rates are about 3% higher than SPY's but 3-5% lower than SCHG's. Earnings per share growth rates and price-earnings ratios fall in the middle, too, and even its constituents' price vs. their 100-day moving average price is in line with expectations.
I want to highlight SFY's 30.11 forward price-earnings ratio, which is three points higher than SPY's. In my view, this price premium for the roughly 2% earnings growth isn't the best deal and is key to my rather unremarkable view of the ETF. However, its top holdings have held up better than I expected this earnings season, and SFY has underperformed the S&P 500 by about 4% in the last three months, so there may be a solid buying opportunity today. With that in mind, let's examine the stocks that contribute most to this higher valuation. I've summarized the top 20 stocks sorted by their overweighting relative to SPY; these total 17.69% of the ETF compared to 9.03% for SPY.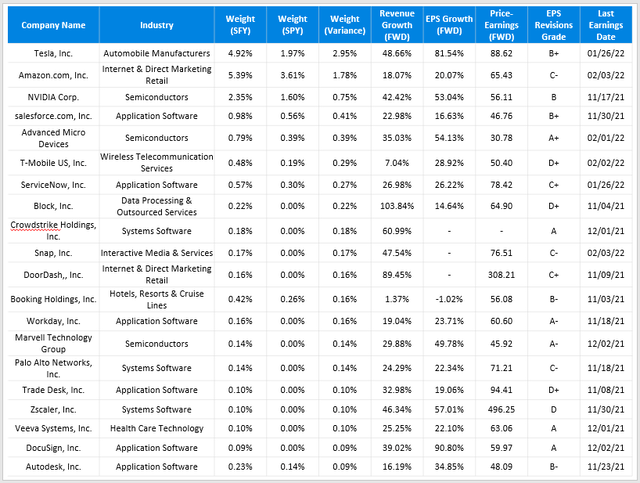 As shown, the key stocks are Tesla and Amazon, which have P/E ratios well above the S&P 500 average. Generally, I don't have an issue with high valuations so long as two things are true: they are supported by above-average growth rates, and market sentiment remains positive. For the latter, I like to know what the analysts are thinking through Seeking Alpha's EPS Revisions Grade because right or wrong, emotions influence a stock's direction between earnings seasons.
I would argue that while growth is terrific, sentiment is more mediocre for these stocks. Take Amazon, which has bounced around since it reported earnings on February 3 but is still down by 5% over the last year. Its EPS Revisions Grade of C- is below the S&P 500 average rating of C+, and while I expect this to improve after this quarter's solid results, I can't see it pushing the $4,500+ price targets JPMorgan Chase and other firms have.

Tesla is another company I'd be cautious about overweighting right now, especially with the market currently favoring value stocks as earnings surprises dwindle. As we've learned this year, the most overvalued stocks are being targeted first, and there are few bigger targets than Tesla. In my January Dividend and Income ETF Report, I noted how Large-Cap Value ETFs had a median loss of 1.79% last month compared to 8.67% for the Large-Cap Growth category. Tesla surprised only by 4-6% on revenue and earnings, and the stock is down 17% YTD. The opportunity for the outsized returns of the past seems small, in my view.
Investment Recommendation
I was bearish on SFY in November, and the thesis played out since it underperformed the S&P 500 but outperformed most large-cap growth ETFs, including SCHG. I think "growth-lite" is the best way to think about SFY since it adjusts weights based on three short-term growth metrics but not to any substantial degree. Even so, providing a buy rating would require a belief that growth stocks are undervalued today, which isn't my position.
That said, the recent pullback makes its price more palatable, so I don't think Index investors would be taking on any significant amount of additional risk if they wanted to try their hand at this zero-fee ETF. I'm not a buyer since I don't see it having much of an advantage over SPY, but it's a decent play if you think the market has overreacted but don't want to bet the farm on it. Therefore, I'm rating SFY as a hold, and I look forward to providing another update in May when its Index reconstitutes next.


Read More: SoFi Select 500 ETF: The Hopeful Investors' Zero-Fee Choice (NYSEARCA:SFY)