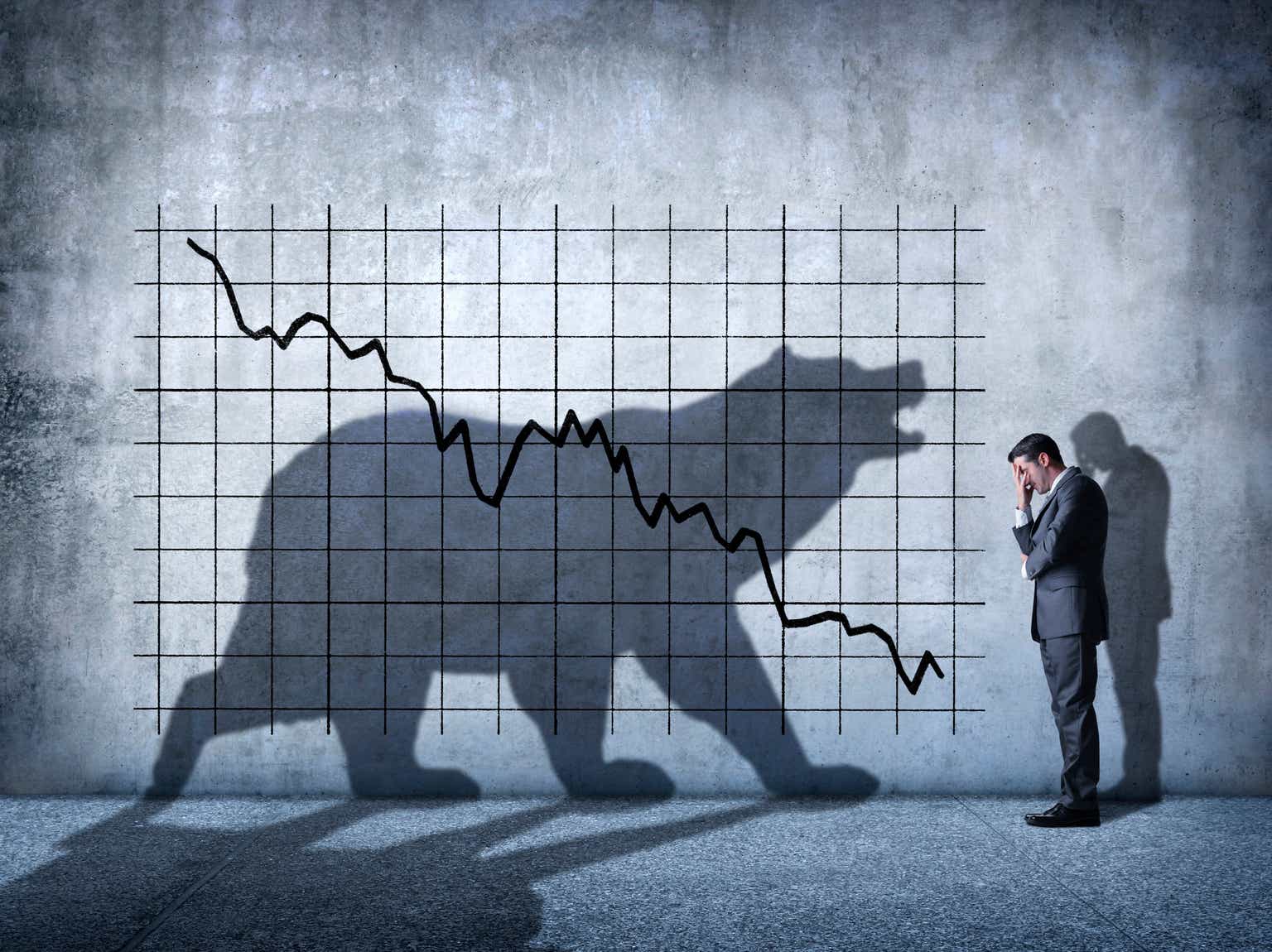 The SPDR Portfolio S&P 500 High Dividend ETF (SPYD) focuses its holdings on the highest paying dividend companies in the S&P 500 as measured by SPY. It has an alluring low expense ratio of 0.07% and high dividend yield of 4.8% while average above 4% since inception in late 2015. SPY meanwhile has averaged between 1-2% dividend yield. All of these factors make SPYD seem like gold for a retired dividend investor. However, the truth is not as appealing and requires a deeper look to unveil.
Reduced Diversification
SPYD reduces the ~500 holdings of SPY to about 80 holdings. There's obviously a lot of debate about the ideal number of holdings in a portfolio. However, considering that SPY already concentrates in 500 large cap companies and many investors prefer to diversify to total market ETFs, reducing holdings down even more to 80 may be too extreme.
Additionally, SPYD reduces sector diversification by removing significant exposure to the health and technology sectors (which have driven a lot of gains for SPY in the past decade). Instead, SPYD concentrates more on slow growing but higher dividend payers in industries like real estate, financials, utilities, and energy.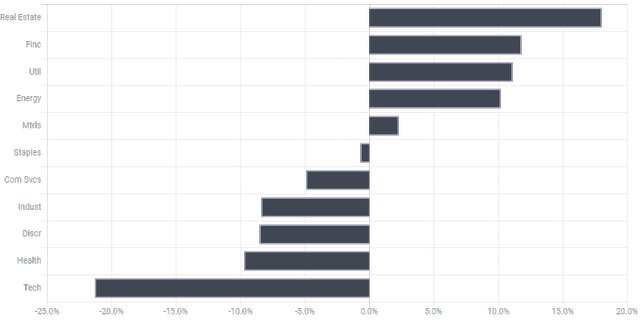 SPYD – SPY Industry Exposure. Source: ETF Research Center
Worse Returns
The concentration into slower growing industries causes SPYD to lag in total returns compared to SPY. Since inception, SPYD has lagged SPY in all years but one (2016) and has underperformed by nearly 70% overall.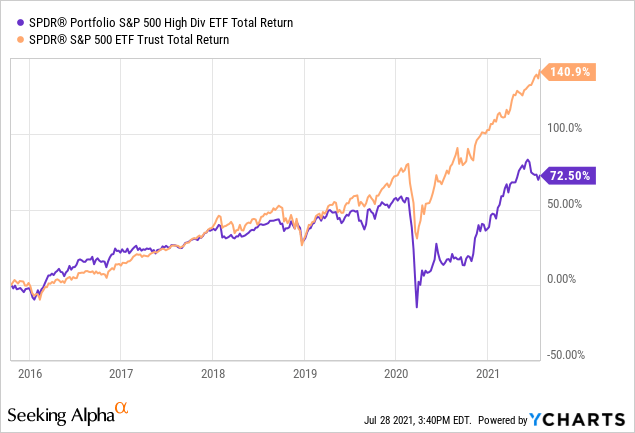 Some investors may argue that the point of dividend ETFs are for the dividends and not total return, but in each of the years except 2016, SPY outperformed SPYD by more than the spread in dividend yields (~3%). An investor could have simply sold off some of their SPY holdings quarterly to equal the dividend income quarterly while still achieving significant capital appreciation unlike for SPYD.
| | | | |
| --- | --- | --- | --- |
| Year | SPY Annual Return | SPYD Annual Return | SPYD/SPY Delta Annual Return |
| 2020 | 18% | -17% | -35% |
| 2019 | 31% | 16% | -15% |
| 2018 | -4% | -9% | -5% |
| 2017 | 22% | 7% | -14% |
| 2016 | 12% | 19% | 7% |
Return data sourced from Ycharts.
Similar Or Worse Downside Protection
Some investors may also argue that high dividend paying companies offer more safety and downside protection compared to SPY. Looking at the recent COVID crash in 2020, I'd argue this is not the case, with SPYD crashing far more than SPY did.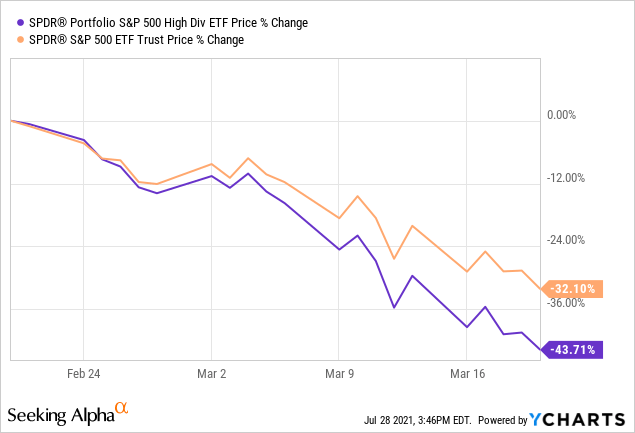 Given the quick recovery from the COVID crash, we may want to instead look at a more protracted and traditional bear market such as in 2008/2009. However, SPYD wasn't around until 2015 and we have been in a bull market for over a decade. Instead, let's take a look at a very similar high dividend ETF, the Vanguard High Dividend Yield ETF (VYM), and how it performed compared to SPY in 2008. It actually produced lower total returns than SPY, hardly more safe.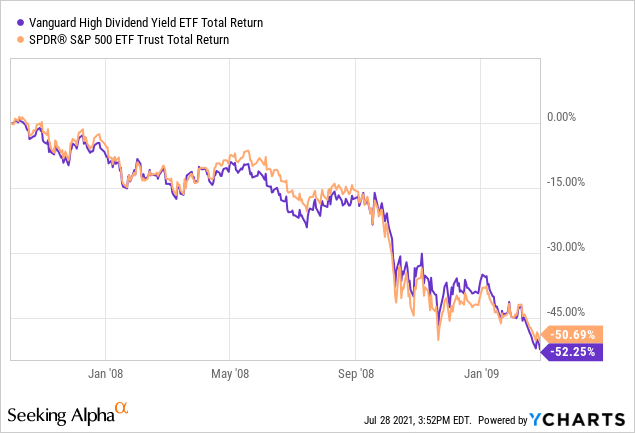 What many dividend investors don't realize is that during major downturns, dividend companies slash their dividends to keep afloat. Given that dividend based companies are often valued and priced based on their dividend reliability, this sends those companies downwards much faster than non-dividend focused companies. See the recent AT&T case where a dividend cut caused its price to head lower by over 10% from ATH.
Let's take a look at the top 3 current holdings of SPYD and how they performed back in 2008. They are Iron Mountain (IRM), Seagate Technologies (STX), and The Interpublic Group of Companies (IPG). All three holdings tanked along with SPY.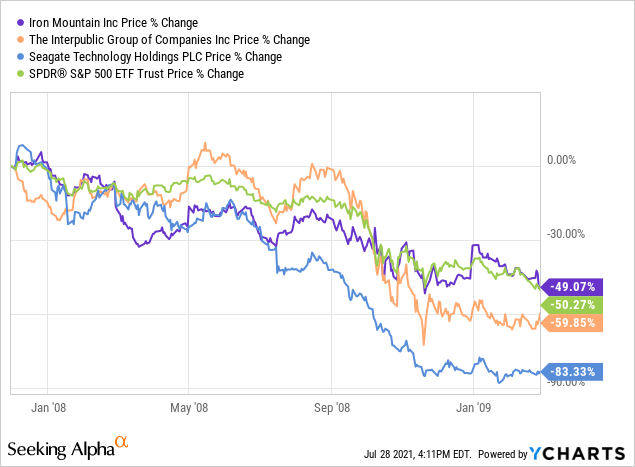 Their dividends were not safe either. IRM did not start paying a dividend until after the recovery came in 2010. IPG cut their dividend to zero after the tech bubble crash and did not reinstate its dividend until well after the recovery in 2011. STX slashed its dividend in the first quarter of 2009 before finally dropping it to zero until after the recovery in 2011.
Dividend investors that look to the "safe" dividend yields of dividend paying companies should not be fooled by the current bull market. In a protracted bear market, its very likely companies will slash dividends for multiple quarters to years until the recovery is already well underway.
Conclusion
SPYD attracts many dividend-focused investors with its high yield. However, it reduces diversification from SPY and results in very poor total returns. The dividend yields and price safety are not a guarantee. Historically, SPYD and similar dividend ETFs have underperformed SPY even during bear markets. The safety of SPYD dividends is a facade. Retired investors looking for income should look elsewhere for income, or simply stick with SPY as a total return option.


Read More: SPDR Portfolio S&P 500 High Dividend ETF: Rotten Dividend Eggs Of SPY