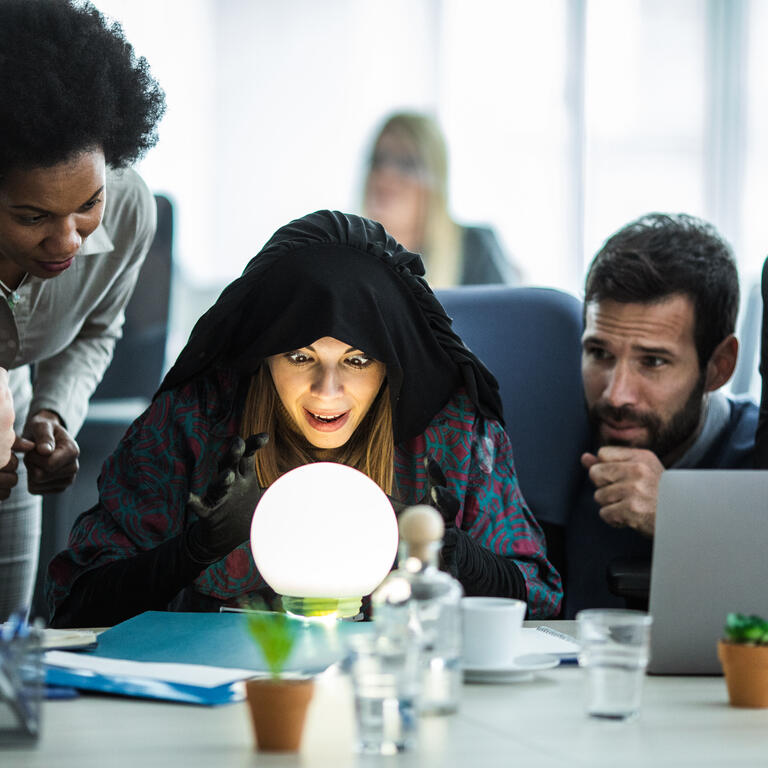 As 2021 draws to a close, we've reached that time of year when pundits feel it incumbent upon them to make grandiose predictions. These predictions are, of course, mostly speculation. Whatever your own beliefs, you can pretty much find one that suits your own hopes or fears.
Many of these predictions will be completely wrong, especially those from brokerage houses. The fanciness of their beautifully formatted reports is only exceeded by the vagueness of their predictions. Though buried among the many charts and graphs you will occasionally find a prediction that is embarrassingly wrong when revisited a year later. Vanguard's Global Outlook for 2021 published last year at this time gives us a good example. Gotta love that prediction that 2021 would see mild inflation against which Gold would be the best hedge.
SPDR Gold Shares's (GLD) Price Return for 2021 YTD

Source: Seeking Alpha
The Bogleheads Forum runs a contest every year where hundreds of members submit their prediction for the closing value of the S&P 500 at the end of the next year. You can see a summary of 2021's entries below.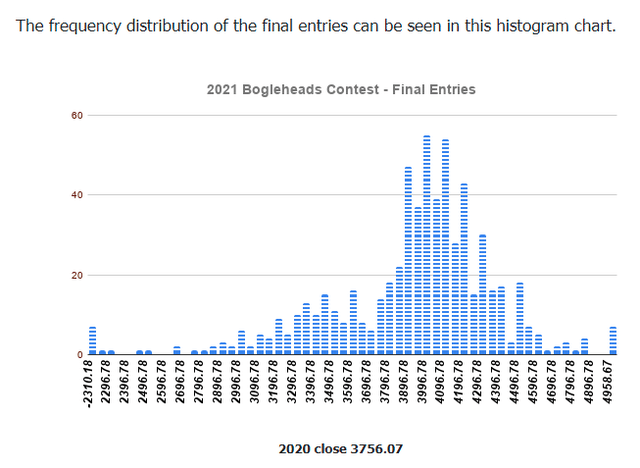 Source: Bogleheads Forum
As of December 23, 2021, the S&P 500 closed at 4,725.79. So much for the Wisdom of Crowds.
Needless to say, having seen many with such examples of failed stock market prophesy, I tread carefully when asked to consider what the outlook might be for the SPDR® S&P 500® ETF Trust (SPY) over the next year. That ETF, which is the best known of the three major ETFs that track the S&P 500 index, which is, in turn, the most commonly cited proxy for the US stock market as a whole.
If I were so foolhardy as to tell investors what the S&P will do next year I would have to join the ranks of those pontificating pundits and allow myself to indulge in rampant speculation. But since I don't swing that way, what I'm going to do instead is bring to your attention some pertinent new information about the S&P Index itself and then examine how SPY's current holdings look when viewed through the lens of some simplistic, but meaningful valuation techniques. With that information you may draw your own conclusions and make your own predictions based on your own favorite method of rampant speculation.
Minor Changes Were Made to the S&P 500 Index After Its December Rebalance
The S&P 500 committee rebalances its index every December. It also makes minor adjustments to its holdings then and tweaks the criteria it uses to pick stocks. That rebalance is now complete. The biggest change I noticed is this: The size cutoff for stocks to enter the S&P 500 is now $13.1 billion. This cutoff has risen at the end of every year, I first wrote about it in November of 2020. At that time it was only $8.2 billion. When I wrote about it next, earlier in 2021 it had risen to $11.8 billion. Now going into 2022 it has risen to $13.1 billion.
Note: These figures came from the information sheets provided by S&P Global, the company that curates the index. though only the most recent document from this December is available now online.
Though the S&P 500 is treated as a proxy for the market as a whole, these changes make it clear it has become a Large-to-Mega-Cap Index. To track the rest of the US market with S&P indexes you would have to look at the Mid-Cap S&P 400, which is currently up around 21% for the year and the Small Cap S&P 600, which is currently up around 28% this year.
Stocks Added to and Dropped from the S&P 500
This change in the market cap that qualifies a stock for inclusion in the S&P 500 is only one of the changes that were implemented when S&P Global rebalanced the S&P 500 index this month. The committee that selects stocks for the S&P indexes added three stocks to the S&P 500. These were stocks that had been in the Mid-Cap S&P 400 index. They were Signature Bank (SBNY), SolarEdge Technologies Inc. (SEDG), and FactSet Research Systems Inc. (FDS).
Three other stocks were dropped from the S&P 500 and moved to the S&P 400 to make room for them. They were Leggett & Platt Inc. (LEG) , Hanesbrands Inc. (HBI) and The Western Union Co. (WU). All three of these stocks have seen significant deterioration in their share price over the past few years. That dropped their market cap (in billions) to mid single digits. The S&P committee gives stocks a grace period before kicking them out if their market cap drops too low, but these stocks outstayed their welcome.
I found this particularly interesting as both LEG and HBI were companies whose popularity and stock prices were soaring back when I started learning about investing in individual stocks back in 2014. According to the data provided by Fastgraphs, which comes from FactSet and S&P Global, by July of 2015 Leggett & Platt's P/E ratios had soared to 24.30. It is currently hovering around 14.5
Hanesbrands' P/E reached as high as 23.11 in April of 2015. It is now somewhere around 8.8. Western Union was already lagging by the mid 2010s, with a P/E ratio that only reached a height of 15.85 in early February of 2020. But its P/E ratio now is around 8.6.
Note: If I am vague about these P/E ratios it is because different sites compute forward P/Es slightly differently so there are different values to be found using Fastgraphs and Seeking Alpha's page for each stock.
I went into detail about these three stocks because they provide a very timely lesson about reversion to the mean. Investors who bought and held Leggett & Platt and Hanesbrands at the high prices that gave them such inflated P/E ratios in 2015 are underwater almost seven years later. In the case of HBI, quite deeply.
When I checked out the current P/E ratios of the three stocks newly added to the S&P 500 I noted that they were currently very high. This probably explains why their market caps were high enough to let them join the S&P 500.
Solar Edge Technologies has a P/E ratio somewhere between 40 and 60, depending on whose forward estimates you go with. FactSet has a P/E somewhere near 40. Signature Bank has what at first glance seems like a more reasonable P/E, one near 22, but that is a high P/E ratio for a bank, since they usually have lower P/E ratios than stocks in other sectors. For comparison, JP Morgan's P/E ratio is currently a bit under 11.
The contrast between the once popular S&P 500 stocks that have had dramatic falls in their market caps and these newly added stocks that are far more overvalued than Hanesbrands and Leggett & Platt were at their height should remind us all of the message that everyone is sick of hearing: The valuation of the S&P 500 as a whole is nearing levels only seen in very early 2000 at the peak of the Dot.com boom — levels it took another 14 years for the market to recover after the slow but devastating crash of 2000.
How Safe an Investment is SPY
Now we will look more closely at SPY, the most liquid ETF that tracks the S&P 500. But the points I will make here apply equally to any of the other ETFs that track the S&P 500 Index as they all hold the exact same stocks in almost the exact same amounts. Those ETFs include the Vanguard S&P 500 ETF (VOO) and the iShares Core S&P 500 ETF (IVV). They also apply to the mutual funds that track that index like the Fidelity 500 Index Fund (FXAIX) and the Schwab S&P 500 Index Fund (SWPPX). Any very small differences in the total return earned by these funds and ETFs will be due to differing expense ratios taken out of the Net Asset Value by the fund provider and to differences in when dividends are paid out.
Seeking Alpha's Quant Ratings Give SPY Top Grades
Below you can see the grades that the Seeking Alpha Quant system gives SPY. They look very good, and as you can see when you compare their current ratings with the Quant ratings from three and six months ago, they have all improved since September.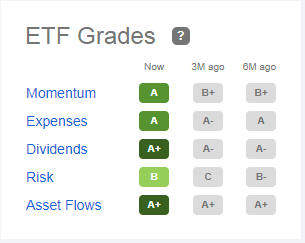 Source: Seeking Alpha
This paints a very rosy picture, but it is important to remember that most of these scores have very little to do with the quality of the stocks in SPY and their current valuation.
Drilling down into the "Risk" category displayed above, we see the following: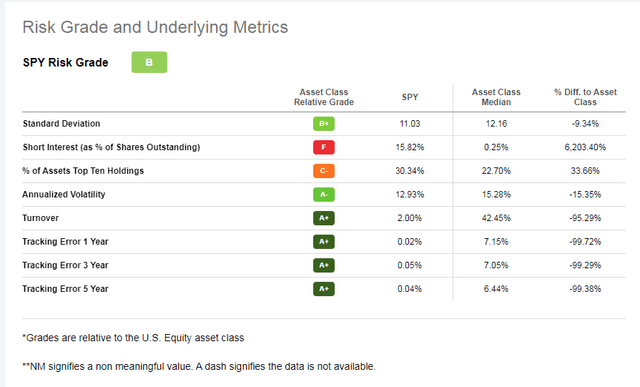 Source: Seeking Alpha
This is a bit more informative. Two sub-factors displayed here should make you think: that high short interest and the percent of assets in the top holdings. Note that the percentage attributed to the top 10 holdings given here is slightly out of date, based on SPY's current list of holdings and weights which we will discuss further on in this article.
But, once again, there is no attempt to value SPY here. I suspect that the Quant ratings for ETFs, unlike those for stocks, are mostly backward looking. SPY has definitely been a wonderful investment for the past decade, but we have to invest today.
How Dangerous Does the Valuation of the Stocks that Dominate the S&P 500 by Weight, Look Now?
If valuation really matters, and if SPY's valuation is as lofty as we hear various pundits claim, that valuation is likely to come down eventually, and when it drops so will the price of the S&P 500. The only way this won't happen is if the earnings of the stocks making up SPY are able to grow at a pace that catches up with the current valuation within a few years. Let's see if the data we have now makes that likely.
Below you can see the Fastgraphs' Forecast graph for the S&P 500 index. It shows that even if the combined earnings of all the members of the index actually do grow at the composite 12% rate that analysts are currently projecting, the current P/E ratio is way above the level that could possibly be justified in terms of those earnings for quite a while.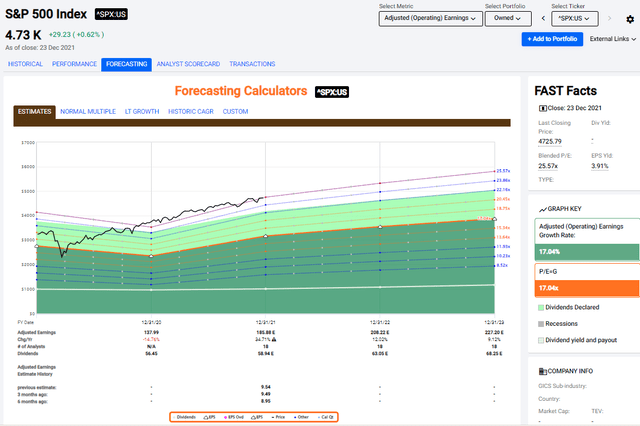 Source: fastgraphs.com
But I am always wary of composite figures. And one that I am particularly wary of is any index's composite P/E ratio. That's because it's often impossible to know how it has been calculated. Especially since, as you are now sick of hearing, the S&P 500 index has become extremely top heavy over the past few years.
Despite holding 505 stocks, the S&P's performance is dominated by a very small number of enormous Mega-Cap stocks. For at least the last two years, the top 10 stocks ranked by weight in the S&P 500 index have made up roughly 30% of its entire value. The top 100 stocks in the S&P 500 ranked by weight have made up about 70-80% of that value. That means that the rest of the 400 stocks in the index each contributes only a very small fraction of a percent to the value of the whole.
In practical terms this means that out of every $100 you invest in SPY $30 buys shares of only those top 10 stocks. $70 buys shares the top 100 stocks ranked by weight. The other 400 stocks in the index? You bought less than a quarter's worth of each of those stocks and in many cases, less than a dime's worth.
With that in mind, I thought it worth taking a more detailed look at those 100 stocks whose price and dividend action contributes so much to the total return of SPY.
The Top 10 Stocks in SPY
Below you see a table showing some useful metrics extracted by Fastgraphs from a list of the tickers of the top 10 stocks in the S&P 500 by weight. Note that I have counted Alphabet's two share classes (GOOG) and (GOOGL) as if they were a single stock.
The Top 10 Stocks in SPY with Weights as of December 23, 2021

Source: State Street Global Advisors and Fastgraphs (data from FactSet and S&P Global). Table by the author
These top 10 stocks are huge. Apple's market cap is $2.89 trillion. Alphabet's is 1.95 trillion. The smallest of these top 10 stocks, JPMorgan Chase (JPM) has a market cap of $464.5 Billion–almost half a trillion. This matters, because as Berkshire Hathaway (BRK.B) has demonstrated, the larger a company gets, the harder it is for it to duplicate the spectacular growth numbers that first brought it to investors' attention.
That makes the extent to which the current Price/Earnings ratios of these companies exceeds its 5-year average troubling. Can Apple (AAPL), Microsoft (MSFT), and UnitedHealth Group (UNH) grow EPS in the future at rates that can justify a 31 PE for AAPL, and a 39 PE for Microsoft when their rate of growing earnings over last five years of growth was in the low 20s?
Alphabet's two share classes of stock trade at P/E ratios very close to their 5-year average P/E, but their 14% average growth rate doesn't match up all that well with a P/E of 27, especially when analysts only expect the company to grow earnings per share by 5% next year and 13% over 2023.
Alphabet History – Price vs Valuation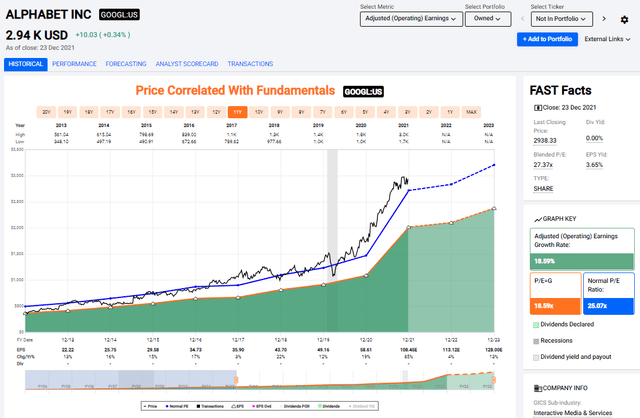 Source: Fastgraphs.com
As you can see, Alphabet's growth was fairly modest until the COVID-19 uproar and is expected to be modest after it is over. Were it to be valued on its earnings using a P/E=Growth ratio of 18.59, it would trade at $2015.48 a share, which is 31% less than its current price.
Other Valuation Metrics
Seeking Alpha's Portfolio feature displays several other important valuation factors you might want to consider when thinking about these top 10 stocks that make up almost 30% of SPY by weight.
Valuation Metrics for SPY's Top 10 Holdings

Source: Seeking Alpha Portfolio Valuation Tab
If it hadn't been true that most of these stocks have had valuations like this for years, I would be ready to pull the fire alarm. Except that they have and despite these stretched valuations, these stocks have continued to see their prices climb, and climb, raising the value of SPY with every overvalued upward price move.
The Rest of the Stocks in SPY
The top 100 stocks by weight in SPY make up 69.7% of its total value, but much of that value lies in the first 50 stocks by weight. Together they make up 55.2% of the value of the total. By the time we get to the 25th stock by weight in SPY, Thermo Fisher Scientific (TMO), we find it makes up only 0.64% of the value of the ETF. When we get down to the 50th stock, Linde (LIN), we see that it makes up less than one half a percent of the ETF's value, 0.43% to be exact. The 100th stock ranked by weight, Estee Lauder (EL) it contributes less than a quarter of a percent to the total, 0.21% to be exact.
After that, the other 405 stocks in SPY contribute very little to its total value. Take for instance Kroger (KR), which is the 272nd stock in SPY ranked by weight. It makes up 0.073% of SPY's total value. If it were to triple its share price, so that its market cap would rise to 0.22%, that would have the same impact on the value of SPY as Apple would have if its price were to drop 2%.
Let's Calculate Some Weighted Metrics for the Top 100 Stocks in SPY
With that in mind, I thought that concentrating on the top 100 stocks by weight in SPY that have such an outsized impact on its total return would give a better feeling for the valuation of SPY as a whole than looking at figures derived from all 505 holdings.
Average Weighted P/E
First I calculated an average weighted blended P/E for those top 100 stocks. I did this by multiplying each stock's weight in the entire ETF by its blended P/E ratio as reported by Fastgraphs to get a weighted P/E ratio. I then found the average of all the 100 stock's weighted P/E ratios. That gave me an average weighted P/E ratio for those top 100 stocks of 26.08. This is somewhat higher than the 25.37 P/E ratio that State Street Global Advisors tells us is the weighted harmonic average P/E ratio of the whole ETF based on forecasted one-year earnings.
Average Weighted Annualized 5-Year EPS Growth Rate
I also calculated a weighted annualized 5-year EPS growth rate for the 93 stocks out of the 100 that have a five year history of earnings growth. I did this by multiplying each stock's weight in the index by its 5-year EPS growth rate to get a weighted growth rate and taking the average of all 93 weighted growth rates. The average weighted annualized EPS growth rate of the 93 stocks with 5-year earning histories was 14.1%.
For comparison, State Street Global Advisors tells us that the 3-5 year estimated EPS growth for all of SPY is 17.96%. It is not clear if this is estimated future earnings. If so, we must remember that estimates a few years out are very often overly optimistic.
But to check my number, based on actual reported past earnings growth wasn't too out of line, I also counted how many of the stocks in the top 100 had 5-year EPS growth rates greater than 15%. Given the heavy predominance of growth stocks in the top 25 stocks by weight in SPY it is not surprising to find that 53 of the 93 stocks that had a 5-year history of EPS growth had growth rates above 15%.
But if that 14.1% weighted EPS growth number can be relied on, this also suggests that the top 100 stocks in SPY holds quite a few stocks with correspondingly low growth rates. Looking at all the 5-year EPS growth rates I found they ranged from GE's (GE) tragic -62% average annual rate to Micron's (MU) high of 152%.
You can see how the growth rates of this group of 93 stocks was distributed in the graph below.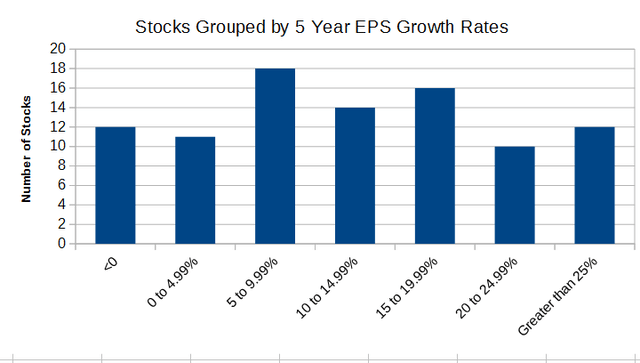 Source: Data from Fastgraphs. Graph by the author.
How Does The Current P/E Compare to The 5-Year Average P/E?
Next I ran these stocks through the spreadsheet I have used in my last couple of articles that show me how the current blended P/E ratio Fastgraphs provides compares with what the stock's average P/E ratio has been over the past five years. This gives some idea of how overvalued an individual stock is compared to its usual valuation.
This is a much more telling statistic than is the composite P/E supplied by the index or ETF provider. That's because the composite P/E ignores the fact that a given P/E ratio for one kind of stock might be a sign that it is undervalued, while the identical P/E ratio for a different stock might suggest it is overvalued. That's because P/Es tend to be a lot lower for cyclical stocks like energy stocks and for mature stocks with annual EPS growth less than 5% than they are for stocks that have been consistently growing their EPS by double digits every year.
When I compared those P/E ratios to the 5-year averages, I found that only 31 of these 100 top stocks (31%) had P/E ratios now that were lower than their 5-year average P/E ratio. And of these, several only had P/E ratios that were less than their long-term average because, as was the case with Tesla or Amazon, in the past their very low earnings per share and very high prices had given them extreme P/E ratios in the high 100s or even 1,000s.
So from this crude but telling exercise, we can see that fully 69% of these stocks are now overvalued relative to the average P/E ratios they have had over a 5-year period.
How Does the Current Share Price Compare to the Analysts' One-Year Target?
Only 28 of these 100 stocks are currently priced below analysts' one-year price target. This, again, highlights just how highly valued the stocks are that drive most of SPY's price movement.
Put another way, 72% of the stocks in that top 100 by weight are already priced at or above the one-year price target Fastgraphs reports for the stock.
How Does Dividend Growth Look for SPY and for the Influential Top 100 Stocks by Weight?
Dividends also contribute to SPY's total return. Indeed, there have been periods in the past when the only gain investors received from an investment in the S&P 500 was from its dividends. Of course, the S&P 500's dividend yield has been much higher at times when its holdings were far better valued. For example, it yielded 3.06% in December of 2008.
Remember though that since SPY is market cap weighted, the amount of dividend contributed by each stock in SPY is also market cap weighted. So the high prices of those top stocks have driven down their yield.
Seeking Alpha's dividend scorecard tells us that SPY's dividend yield for the last 12 months has been 1.22%. Furthermore, State Street Global Associates tells us that SPY's SEC yield, an estimate of future yield, is even less, 1.17%.
I wondered what would happen to SPY's dividend if SPY's price were to come crashing down and stay low for a decade, as it did in 2000. How many of the 100 stocks that contribute most heavily to SPY's dividend have a solid history of dividend growth that might suggest that they would continue to pay and grow their dividends?
Based on the data Fastgraphs provides, it turns out that 42 of the top 100 stocks by weight in SPY have 10 yr annualized dividend growth rates over 10%. As I noted in an article published back in September of 2020, until COVID upended the world as we know it, the S&P 500 index had had an 11 year history of dividend growth. But that streak ended at the end of 2020. As of the end of 2021, the S&P 500's dividend has recovered and is slightly higher than it was in 2019. That suggests that SPY's dividend should persist after a prolonged crash, but investors who buy shares now are very likely locking in a dividend yield less than 1.5% for years to come. That won't be much comfort during a long stock market recession.
Does Valuation Really Matter Anymore?
So there is some fairly simplistic but possibly useful data that can be helpful for those of us who invest using a strategy that relies on some form of valuation. But after years of seeing SPY appear overvalued but relentlessly keep on growing its share price, I have begun to wonder if the kind of valuation that still works well to identify modestly growing, mature companies has any value in predicting SPY's future behavior. There are three reasons for this. Let's look at them now.
SPY's Results are Often Dominated by the Most Overvalued, Momentum-Driven Mega-Cap Growth Stocks
This has been true as long as I've watched the stock market, be it in the days of the dot.com boom or now. The kind of rational data-driven valuation that I have been using here doesn't work well to predict the behavior of aggressive growth stocks, because they are driven by investor hope and greed as much as any rational considerations. Moreover, because SPY is cap weighted the largest stocks with the most inflated valuations will always come to dominate it. And given how much huger the top 100 stocks are than all the rest in the index, that dominance is likely to persist. The question is, will the momentum that made those stocks the mega-cap monsters they are now persist and keep their prices rising even if they reach the limits of possible growth? Answer that right and you will make a lot of money investing in SPY–or shorting it. But good luck on figuring out the right answer.
The Fed's Relentless Suppression of Rates May Still Continue
Without getting into political squabbles, I'll just say that no matter what party is in power, the Fed's real mandate appears to be to prop up the stock market, and it has done this very effectively by lowering rates to where investors have been forced to invest in stocks if they want to get the kind of returns us old fogies remember getting from bonds and CDs.
No one knows how serious the Fed is about raising rates. I have discussed in several recent articles the impact stocks would suffer were rates to rise to match the current rate of inflation. But my cynical side wonders if the Fed will ever actually raise rates more than a token amount. This is because it is so obvious that any attempt to restore a normal relationship between inflation and rates will cause havoc in the market.
I have no idea what will actually happen. This is probably the most contentious factor dividing pundits right now. You will have to make up your own mind about whether the Fed will raise rates back to even the 3% or 4% that were considered to be extremely low rates within the memory of many of us.
The Massive Growth of Robo-Advisor Index-Based Investing
Investing in index funds that tracked the S&P 500 was not very popular back when I started investing seriously in the late 1990s. But over the past four or five years it has become extremely mainstream. The most recent innovation, fintech driven plans called "robo-advisors", automate periodic investing in indexed products and sell themselves to naive investors with the promise that they don't have to understand anything about investing to achieve their financial goals.
This concept was pioneered by Wealthfront and Betterment. But now all the major brokerage houses offer cheap or even free robo-advisor plans that invest only in indexed products. Examples are the Schwab Intelligent Portfolios, Vanguard Digital Advisor, and Fidelity Go. Plans like this are becoming major players in so-called self-directed retirement plans and 529 college savings plans, too.
All of these Robo-advisors charge a very low fee for creating a portfolio that automatically invests investors' assets into a very small selection of index funds. Investors choose only what percentage of their investment they want to allocate to US Large Cap or Total Stock Market ETFs, International ETFs, and Bond ETFs. Funds that track the S&P 500 are often used by these robo-advisors. As a result, assets have flooded into funds that track the S&P 500, especially those with lower expense ratios than SPY, like VOO and IVV.
As I mentioned in an article published at the beginning of December,
Seeking Alpha's Fund Flow page for VOO documents this very clearly. As you can see VOO's AUM has almost doubled over the past three years and has grown by a whopping 44% in just this last year. When you keep in mind that VOO has been around since Sept 7, 2010, that is a startling amount of growth to see in so short a time.
Even those robo-advisors that don't invest in S&P 500 ETFs invest in Total Stock Market ETFs whose 100 top holdings, and their impact on total return, are very similar to those found in SPY. So the net effect is that the 100 stocks that dominate SPY and all the other S&P 500 ETFs, as well as the ETFS like Vanguard Total Stock Market ETF (VTI) are getting bought every payday, month after month, automatically, without any regard to what is happening to the companies behind the stocks in the index funds they invest in. This will drive up demand for those top stocks weighted by market cap and thus help their prices continue to rise, no matter what.
The big question is whether the oblivious investors whose portfolios are managed by these robo-advisors will keep holding their ETFs rather that dumping them all every time there is bad news, the kind that in the past has led to prolonged market draw downs. Has "buy the dip" really replaced "head for the hills?" The way that the market bounced back from the COVID swoon may very well indicate that this is true. If so, buying SPY, even with its concentration in those overvalued momentum-driven mega-cap monsters would be a very wise decision.
Bottom Line: Valuation Says Stay Away from SPY but Valuation May Not Be Relevant
There are very good arguments suggesting it's time to get out of SPY, and just as strong arguments suggesting that would be a very foolish move. Treat with caution anyone who tells you they have it all figured out.
The best advice I can pass on for those of you trying to determine what SPY will do over the next year is summed up by the well-known remark attributed to J. Pierpont Morgan, Henry Poor, a founder of Standard & Poor's, and others who when asked what the market would do over the next year were supposed to have replied, "It will fluctuate."
Don't invest money you might suddenly need to spend for something non-negotiable over the next ten years like a health crisis, a new home, a new car, or living expenses during a period of unemployment. Stay away from short SPY options. Keep some money in some form of fixed income so that you can take advantage of real buying opportunities like those that showed up in 2008 and March 2020. And if you do invest, do it by investing small amounts regularly rather than all at once.


Read More: SPY: What Is The Outlook For The S&P 500 In 2022?