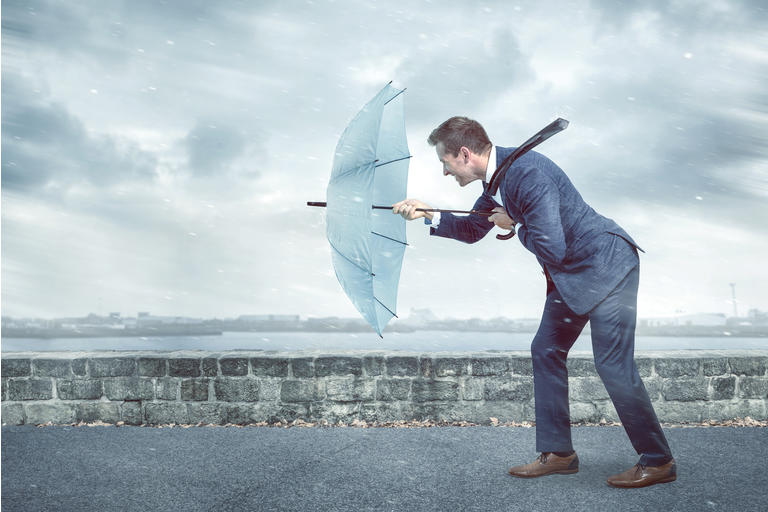 Background and Main Thesis
The purpose of this article is to evaluate the Vanguard S&P 500 ETF (NYSEARCA:VOO) as an investment option at its current market price. The fund "invests in stocks in the S&P 500 Index, representing 500 of the largest U.S. companies". The current share price is at $377.71/share and the fund yields 1.42% annually. I covered VOO just over a year ago, when I was bullish on large-cap U.S. equities coming out of the depths of the sell-off. In hindsight, this was a good option to play the recovery, with VOO up over 48% since that was written: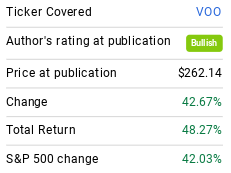 Source: Seeking Alpha
Looking ahead, I think a more cautious outlook on VOO is warranted. Simply, I will look to add to this fund, as it remains one of my core holdings, but very selectively – ideally on down market days. On the bright side, U.S. equities have plenty of momentum, and remain a "recovery" play. Further, the S&P 500 is seeing a rise in earnings per share, which will support higher prices.
However, there are challenges to additional gains. Inflation is starting to pick up, which could temper business and consumer spending. It could also force the Fed to raise rates sooner than expected, which would certainly rattle markets. Finally, higher taxes remain top of mind, with a new presidential administration making that a priority. History shows us that equities often decline in the months prior to a rise in the capital gains tax. This all tells me that investors need to be careful with new positions in the short term.
The Good News – Earnings Are Up, Expected To Keep Rising
To begin, I want to start with the good news. With respect to VOO, this means it is important to gauge the state of the broader S&P 500 index, since this is what the fund tracks:

Source: Vanguard
With this background, it should be easy to understand why VOO has had such a strong year. The broader U.S. economy is in recovery mode, driven by massive stimulus programs, economic re-openings, and a return by millions to the workforce. Overall, these developments have had a dramatic impact on corporate earnings, to the tune where Q1 2021 was one of the best quarters on record for the S&P 500 as a whole. In fact, dollar-level earnings for the index were well above the levels of the past three years: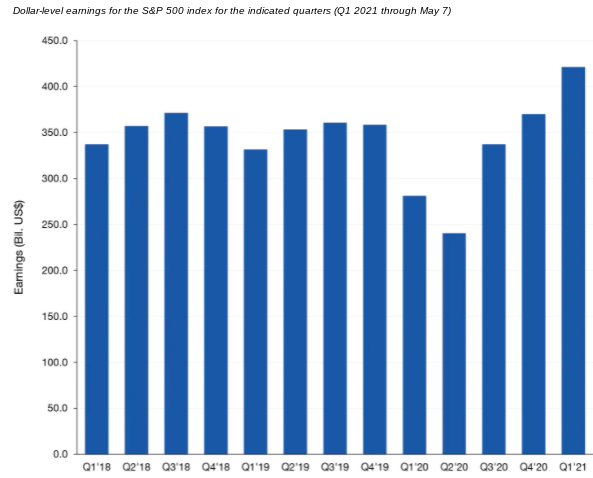 Source: Lord Abbett
Clearly, this is great news. Seeing earnings rise is probably the number one thing an investor wants, and it helps to justify some of the actions taken over the past year to get the economy moving again. Further, a major concern going into the new year was the price to earnings (P/E) ratio of the S&P 500, which was on a historically high side. While this remains the case, when earnings rise (as they have been) this helps to compress the P/E ratio, even as stocks climb. Ultimately, this has made the S&P 500 cheaper to own, all other things being equal. However, this has not made the S&P 500 "cheap", as the index, and VOO as well, both have P/Es near 28:

Source: Vanguard
My thought here is that VOO is by no means a bargain, but investors can take comfort in the fund's strong long-term performance, as well as rising earnings. Further, there is a good chance those strong corporate earnings for Q1 were not an anomaly. With the U.S. economy continuing to recover, earnings estimates are also being raised. This is actually a global theme, but is relevant to VOO because the U.S. has also seen an earnings revision upwards by a healthy margin, as illustrated below: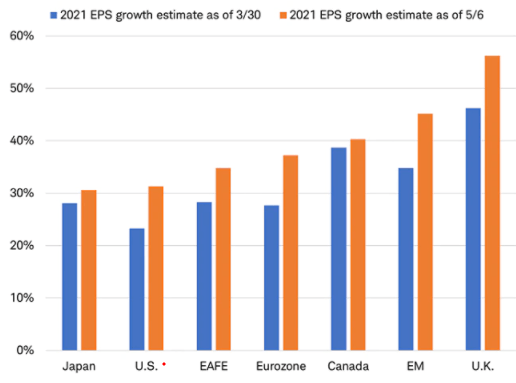 Source: Charles Schwab
The takeaway here is that stocks are at relatively high levels, but there is support for it. The index VOO tracks, the S&P 500, has been a primary beneficiary of the economic recovery, and impressive Q1 earnings bear the fruit of that assessment. Further, earnings are expected to keep rising throughout 2021, so there is certainly an argument to be made for buying or holding this fund going forward. However, this view is balanced out by a few fundamental headwinds that I will discuss next. This is key to why I feel investors would be wise to be selective buyers in the months ahead.
What Are The Challenges? Labor Market Is One
One challenge in particular is the state of U.S. employment. Now, in fairness, the labor market has come a very long way in the past year. Thus, I want to emphasize I do not see this as all "bad" news. In fact, I am quite impressed with how resilient the U.S. economy has been, albeit this is due to a fair bit of government intervention. However, we have seen each month of 2021 add jobs, which is a great sign inherently, helping to push the unemployment rate closer to 6%.
The bad news is a 6% unemployment rate is not overly bullish. Further, job gains are starting to slow, which is a worrying sign considering economies are reopening as we speak. In fact, job gains in April were well below expectations, and were much lower than March or February, as shown below: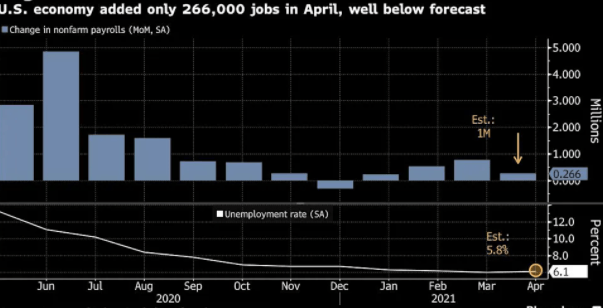 Source: Yahoo Finance
So, why is this bad? For starters, as a country we should want a productive and engaged citizenry. Also, the more people working, the stronger the outlook for the future is, as business investment should be high and consumer spending will be more likely to support the economy. Finally, consumer prices are starting to rise, with real inflation rearing its ugly (or beautiful) head (depending on your perspective) for the first time in years. With input prices rising across the board, for commodities, components, and labor, the cost of just about everything is going up. In fact, the CPI readings for April were well above what we have seen in years, displayed below: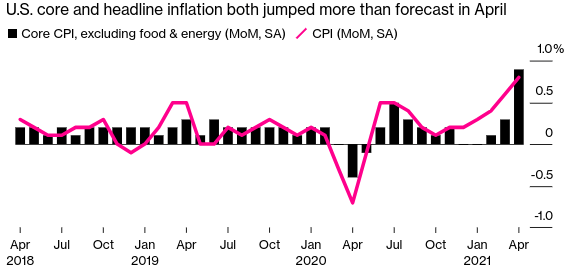 Source: Bloomberg
The point here is that weak employment gains coupled with rising prices could stifle consumer spending later in the year, as U.S. households feel the pinch. Of course, we could see hiring pick up at a quicker pace, and the inflation signals could be transient, as the Fed has suggested. But I personally see this as a headline worry to take seriously, and it impacts VOO in particular because the fund has roughly one-quarter of its assets in consumer-oriented sectors:

Source: Vanguard
Ultimately, these are short-term signals, and investors should probably not make any rash decisions based upon them for now. Month to month fluctuations in labor statistics and inflation metrics are common, so we will want to see longer term trends before making any real meaningful changes. However, these will remain important points to monitor going forward, and support the view for some caution for the time being.
Higher Taxes Are Not A Threat To Ignore
Another point I have mentioned in prior reviews that I think the market is under-estimating is the likelihood of higher taxes coming out of Washington. Since I have discussed this in length in other articles, I won't go into too much detail here, except to say that I believe President Biden will ultimately achieve his stated policy goals of higher corporate tax rates and higher capital gains tax rates. The impact on the S&P 500 on the backdrop of this reality could be meaningful. In truth, higher taxes are just one obstacle to contend with, as corporate earnings and the macro-outlook both tend to drive stock performance more than fluctuations in tax rates.
However, past cycles tell us that stocks often drop in the months leading up to the implementation of higher tax rates, as shown below: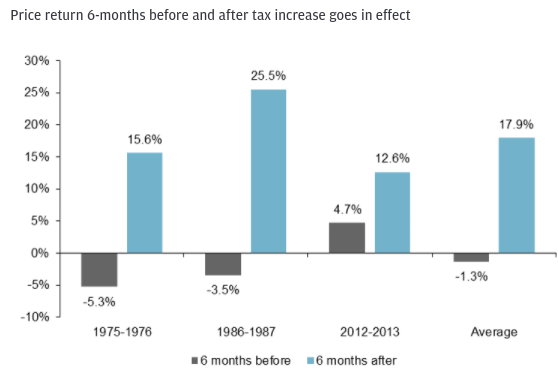 Source: JPMorgan Asset Management
My takeaway from this graphic is not all bad. In fact, it is quite positive, since equities tend to rise in the months following any actual tax increase. It appears that once the market contends with the uncertainty of the rise, and then figures out how best to adapt to it, equity prices resume their typical path higher. Yet, it is worth noting that there is often weakness in the six-month period before the increase goes into effect. With an increase possible as early as January 2022, we are close to entering that six-month period. If history repeats itself, we may see limited gains in the second half of the year.
Is Covid Over? No
My final point is just a reiteration of the obvious – the pandemic is not over yet. While it may feel like we have returned to a time of some normalcy, the whole world cannot say the same. In the U.S., we are seeing mask and capacity restrictions ease, vaccine distributions hit high levels, and many businesses reopening for in-person service. This makes me generally bullish on the U.S. outlook but, for large-cap stocks, the U.S. outlook is not all that matters. Major American corporations depend on overseas markets for revenues and profits, as well as input labor and components. As the Covid-19 crisis batters important markets like India, Brazil, and many others, global supply chains will remain tested, and corporations will face rising prices and difficult conditions.
And this is a real risk, with global cases remaining at an elevated level. While we are down from the highs, this is not a level that suggests normalcy:

Source: WHO
I view this as another reason to be selective with new positions – we do not know how deadly or impactful future variants are going to be. It may be that we return to a new normal and life gets back on track. Or we may face future lock-downs and other challenges. While the U.S. has made substantial progress and we should take comfort in that, we invest on a global level, even if we only buy large-cap U.S. stocks through VOO. The state of the world matters, and right now that state is clouding my outlook.
Bottom line
For the remainder of 2021, I will keep using VOO as a place to put new cash, as large-cap U.S. stocks are a time and battle tested sector. However, there are multiple headwinds facing the U.S. economy, and VOO by extension, so I will be selective with my buy-in points. Simply, this means waiting for down days and market weakness, and perhaps buying smaller positions than I normally would. I want to see continued progress on the Covid-19 front, successful re-openings, and moderated inflation before putting all my new cash into an equity fund. Equities are my preferred choice, but in times like these I will remain committed to diversifying. As a result, I think a short-term outlook of neutral makes sense on VOO going forward, and I suggest investors approach the fund with some care at this time.


Read More: Vanguard S&P 500 ETF (VOO): S&P 500 Is Supported By Earnings, But Has Some Headwinds